Zapier - Add Potential Invite
Zapier - Add Potential Invite
Updated by Daniel Misico
Using the Referral Rock and Zapier integration is simple and available on any plan. Automating tasks, like receiving notifications for new Referrals, updating your email list, or syncing with your CRM, makes it easy for business owners to focus more on running their businesses and less on small tasks.  Zapier makes automating tasks a breeze, no programming skills necessary! This article explains:
How to add a potential invite for a member to join your referral program using Zapier.
How to integrate your Referral Rock account by automating tasks with Zapier.
HubSpot will be used as an example in this article. The steps in this article will still apply to most other CRMs and form software.
Invite Automation
Our invite automations provide an easy way for you invite anyone in contact with your business to join your referral program. This feature has two main functions:
Collect potential invites from your account and external sources (CRMs, email marketing, e-commerce purchases)
Send out invites to your programs based on rules you determine or manually in a campaign
Invite automations allow you to "automate the ask" and create your own viral loops by automatically getting new members to share your business and get more referrals. More information on this feature can be found here.
In Zapier
Trigger - HubSpot
Create a New Zap
Name your Zap
Set a trigger for your Zap. This could be something like when a "New Contact" or "New Deal" is created. This can even be when a contact is "New in a Deal Stage." The trigger should be an action you want completed in order to invite your member to join your referral program.
Ensure your HubSpot account is connected.
Test This Step
Action Step - Referral Rock
In the next step select Referral Rock as your app.
Select Add Potential Invite.
Connect your Referral Rock account and test.
Our Zap requires First Name, Last Name, email address, and Contact Type at least. Map the results from HubSpot to the appropriate fields in the Referral Rock step.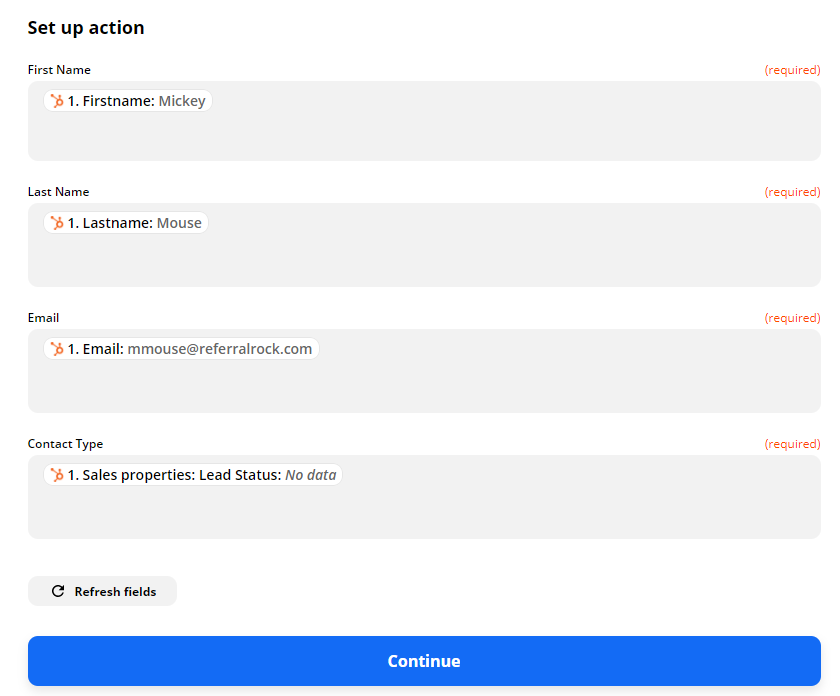 Contact Type can be used if you are wanting to filter invites based on a certain property. More information on that can be found
here
.
Select Continue and then Test This Step. You should see your test referral information come in to Referral Rock. You can view this under Referrals or your Integration Event Log.
Save the Zap and turn it on!