Referral Update with Salesforce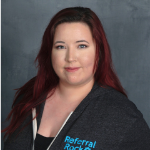 Updated by Tyra Earl
Keeping Salesforce and Referral Rock in sync through a sales process is essential so Referral Rock can correctly calculate rewards based off of referral and sales events.
Salesforce v2 uses an oAuth connection to your Salesforce account and unliked our previous version, does not require a Package installation.
View our Referral Add to Salesforce integration 
here
!
Setting up Conversion Tracking (Referral Add) for Salesforce
When integrating your Salesforce and Referral Rock accounts, the Referral information has to live in both accounts.  You need to ensure that the Referral is added to both Referral Rock and Salesforce at the same time and that Referral Rock knows who the Member that referred them is.  This can typically be done in one of two ways:
Use your existing online lead capture method (which already adds to Salesforce) and add the Referral/New Lead via Conversion Tracking through the Referral Rock Integration Scripts.
Lead is gathered from Referral Rock form and sent to Salesforce via our direct Referral Add to Salesforce integration
Below is an example of a typical Salesforce/Referral Rock workflow.
How the Sales Receiver Works
Understanding the process behind the Referral Rock and Salesforce integration is helpful when trying to decide and understand how your settings should be set within your accounts.
Adding a Lead/Referral: When a new lead is captured, it needs to exist in both Referral Rock and Salesforce (see the two methods above).
Close/Update Deal/Referral Processing: Update Referral Rock based on event triggers in Salesforce.

Trigger Events in Salesforce

New/Updated Lead
New/Updated Contact
New/Updated Account
New/Updated Opportunity

Action/Operation Response in Referral Rock

Event trigger notifies actions to send data into Referral Rock
When the event occurs, a call is made to Referral Rock to collect various available sales data points
Based on the configuration, data is sent to Referral Rock

Sales Receiver: Referral Rock then processes the data sent and makes intelligent decisions in order to update/add the Referral record.
The Sales Receiver is smart enough to process information it has no questions about but will also save data that was sent in, both complete and incomplete.  For example, a new sale can be sent in with a referral code that doesn't match.  It will fail, but save the record so a team member can manually edit and retry the information with the correct referral code.  This way, a log of all failed and successful updates is saved, so you won't have to try to recreate a trigger or event to re-submit a record that needs correcting.
Setting Up Salesforce
Navigate to Settings > Integrations, then scroll down to Salesforce and select Manage Integration, or click here.
Under Receive Updates - Salesforce Integration (V2), select Setup.
Connect New Account
A Salesforce oAuth window will pop up. If you are not already logged in to your Salesforce account, you will be prompted to do so. After your Salesforce account has been connected, the pop up window will disappear and the connection is now available for use with Referral Rock. Please ensure you are connecting Referral Rock to Salesforce by using a Salesforce System Admin profile.
Your Salesforce account may only be connected to one Referral Rock at a time. You will receive an error message if attempting to connect a Salesforce account that is already connected to another Referral Rock account.
Configure Settings in Referral Rock: Based on how your workflow is setup within Salesforce, you can configure the various events you utilize and how it affects your Referral Rock data.  Please go through all of the steps on the page to configure the necessary settings.  We're happy to help talk you through the correct configuration based on your use case.

If any of your Salesforce fields that you would like to map to Referral Rock are encrypted under

Shield Platform Encryption

, the integration will not be able to unencrypt the field and the integration

will not be able to sync properly

.

Required Setup Areas


Referral Status Change Events:  Choose which referral status you want to update to based on the Salesforce object, field name, and value match. The most common example is setting the "Approved Status" to use the "Opportunity" object with the "StageName" field name with the value match of "Closed Won".
You may also toggle the option to allow your Salesforce connection to override Denied Referrals in Referral Rock. This means that any update to another status that was triggered by Salesforce would change the Referral's status in Referral Rock.

Referral Fields to Update: Once the status change event occurs, the fields are sent to Referral Rock. You then set the mapping of which fields in Referral Rock will be updated by which fields from Salesforce.

Recommended Setup Areas

Referral Target Match: If the Referral already exists in both Referral Rock and Salesforce, you can assign the fields to ensure a direct match, so that the correct Referral record in Referral Rock is updated.

Optional Setup Areas

Member Match: If the Referral does not exist in Referral Rock, you can assign the fields so that the Referral record gets added to the correct referring Member based on the Salesforce fields set to match.

You must use "Additional Matching" for mapping back Lead objects to Referral Rock. If you set up our

Sync Added Referrals integration with Salesforce

, then you can map the Referral Rock Referral ID field back to the Referral ID in Additional Mapping. Otherwise, for other forms of capture, please use our External ID.

Contact Matching and Updating Behavior: This is used to determine what contacts or leads to match and update in Salesforce. For example if you would like to include contacts linked to the account of the triggered object choose the last option.

Process Rules:

Automatically process direct matches (recommended): If a Lead is updated in Salesforce and it directly matches either a Referral ID or External ID.
Automatically process fuzzy matches (recommended): If a Lead is updated in Salesforce and it matches a Referral in Referral Rock using fuzzy matching (email address, name, etc). This is the most commonly used method.
I want to review a referral add where a member match was not found: If a Lead is updated in Salesforce, and they are not matched as a Referral in Referral Rock by either direct or fuzzy matching (if enabled), the Sales Entry will be set to Review.
I want to review where a referral with status "denied" is trying to be updated to qualified or approved: If the Referral is "Denied" in Referral Rock, and the associated Lead is in Salesforce, the Sales Entry will be set to Review if it is attempting to adjust the Referral to Qualified or Approved.
Review Notification Flag: Will send you a notification if a Sales Entry is set to Review.

Test the setup: Trigger one of the events you setup in the previous step.  You'll be able to see the "Last Salesforce Connection" date update as well as "Last Entry Received" date under Connection Details if you have set everything up correctly.
You
must
use the proper
API field names
based off of how they are named for the API in Salesforce, not how they are displayed in the user interface.  A full list of field names, including those for custom fields, can be found within your Salesforce account under Setup > Customize > [Object Name] > Fields.  Check out
this guide
for the API field names for most standard fields.
Troubleshooting
I'm not sure this is working

You'll be able to see the "Last Salesforce Connection"

I'm not getting any sales entries

Check to ensure the correct account is set up
Ensure you are triggering a Trigger Event

New/Updated Lead
New/Updated Contact
New/Updated Account
New/Updated Opportunity

Double check Contact Matching and Updating Behavior
Ensure your matching options are set up properly under Process Rules
Ensure your Salesforce Edition is one of the following for access to REST API and Salesforce Streaming API:

Enterprise Edition
Unlimited Edition
Developer Edition
Performance Edition

Check your API version and ensure Push Topics are being sent.

Verify API version using steps from Salesforce here. Referral Rock requires version 22 or greater.
Ensure that your Streaming API is enabled

Run a query "select name from pushtopic" using the developer console

My fields aren't being set correctly

If you run into any issues you can dig into the details of the Sales Entry

Other Notes on Fields
Due to the nature of some fields in Salesforce, Referral Rock can only receive direct fields. Relational fields will send as null so use direct Object > Field relationships whenever possible. For example, instead of sending Contact > AccountName, send Account > Name to ensure an accurate Business Name is sent.
If the set fields are not available, Salesforce will send Referral Rock "null" records.  If there is the possibility of many objects, then Salesforce will send us the fields if there is only one record matching (i.e. Account that Has Many Opportunities trying to send Object 'Opportunity' with the field name 'Name').
| | | | |
| --- | --- | --- | --- |
| Trigger | Looking for | Relationship | Logic |
| Lead | Lead | Self | Same object, no problem |
| Contact | Contact | Self | Same object, no problem |
| Contact | Account | 1 to 1 | If exists, else null |
| Contact | Opportunity | 1 to many | Send record if only one associated record exists, else null |
| Account | Contact | 1 to many | Send record if only one associated record exists, else null |
| Account | Account | Self | Same object, no problem |
| Account | Opportunity | 1 to many | Send record if only one associated record exists, else null |
| Opportunity | Contact | 1 to many | Send record if only one associated record exists, else null |
| Opportunity | Account | 1 to 1 | If exists, else null |
| Opportunity | Opportunity | Self | Same object, no problem |