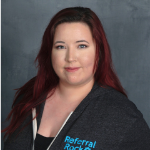 Updated by Tyra Earl
The Member Messages page in the Program Editor is where you will set the default messaging for social media posts, text messages, and emails that Members send through their sharing dashboard on the Member Page.
Social Media Post
To set the default social media image, title, and description, select Edit Social on the right side toolbar of the Member Messages page within your Program editor here. To preview your message on a particular social media platform, select that platform's icon (Facebook, Twitter, LinkedIn, Pinterest). The Social Media post will also be displayed when sharing via Facebook Messenger on a mobile device.
Due to individual platform requirements that may be subject to changes, we cannot guarantee the accuracy of the message preview.
Text Message
Select Edit Message to customize the default text for SMS and WhatsApp. It is best practice to keep this message around 100 characters.
This text will also be included in your Twitter and Pinterest posts.
Email
Members may email their referrals through the email form or by clicking on a specific email icon on their dashboard (Gmail, Outlook, Yahoo, etc). Select Edit Email to adjust the subject and body of this default email. You may also edit the HTML of the email, however, HTML Templates only work when sending through the email form, not through the email buttons.