Migration from Member Portal Classic to Member Portal 2.0
Migrating from Member Portal Classic to Member Portal 2.0 is very easy, but it's important to know what to expect when migrating to 2.0 as well as the features that will and won't be available with the new version.
Once you migrate to Member Portal 2.0, all of your existing member's dashboards will be transferred to the new member experience. The great news is, you can preview and edit the new portal before making the switch!
Below, we have a quick how-to guide, as well as a checklist, to ensure you are ready for migration. We do not recommend switching to 2.0 until you have read through this article in it's entirety.
Member Portal 2.0 Features
A clean, modern dashboard that makes sharing and referral management a breeze
Full language customization
Separate tabs for Rewards and Referrals
Easy to style to your brand
Simple sharing experience
Mobile and tablet responsive
Ability to embed your program's Share Block on your website through an iFrame or widget
See a preview of 2.0 in this short video:
Migrating to 2.0
How to Preview 2.0
When viewing your Member Page inside of the Program Editor, you will see the option to "Check it Out" to preview Member Portal 2.0. This will not change your live program settings.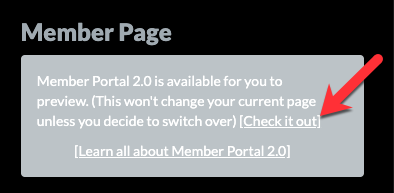 After selecting "Check it out", you will be brought to the Member Portal 2.0 experience. From here, we recommend familiarizing yourself with the new layout and editing options.
Your settings, images, and text will only automatically sync to Member Portal 2.0 if the Program existed prior to the release of Member Portal 2.0. Newly created Programs will default to Member Portal 2.0, but you can always switch back to Classic if needed.
Migration Checklist
Before you select "Switch to Member Portal 2.0", to make the transition to the new experience, make sure that you have done the following in Preview mode:
Confirmed your brand/accent color and logo under Branding
Edited the copy and image under the "Share" section
Turned on/off your desired settings for each of the portal pages
Added your Terms & Conditions (if applicable)
Read through the list below of feature parity from Member Page Classic (reminder: not all features are available in 2.0!)
Switching to Live 2.0
Once Member Portal 2.0 is built out to your liking, select "Switch to Member Portal 2.0" to immediately change the member experience to the new portal for all existing members. All member referral codes and login information will remain the same.
Do Not Select "Switch to Member Portal 2.0" until you are ready to make 2.0 live for your members.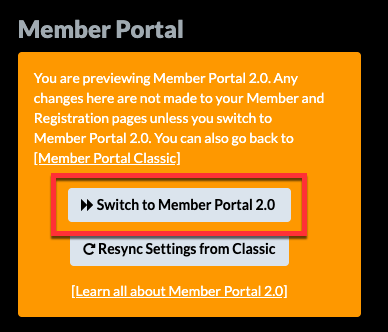 Features Not Available in 2.0
Ability to not require a password for Registration
Request Mode for Registration
Pre-Approved Mode for Registration
Toggleable SSO (SSO is always enabled on Member Portal 2.0)
SSO position changes (SSO is always placed below the Registration/Login form for Member Portal 2.0)
Custom fields on the Registration page (Member Portal 2.0 only supports Name and Email)
Customizable social sharing icons
Direct Referral Add button
Built-in Email Form
Advanced HTML/CSS/JavaScript inject
---
---