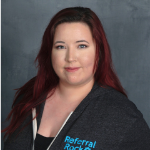 Updated by Tyra Earl
The Program Editor is used to set up, preview, and update your referral program. This article is a high-level overview of how to navigate the program editor and all of it's functionality.
General Navigation
First you will see the Program's name, navigation bar, program status, and options for further assistance and to close the editor.

Click the edit icon to name your Program. This name is largely used for internal uses but Referral Rock does offer the program name as a merge tag if you would like to use it in messaging or emails
Navigation to the other sections of the program editor, Share, Rewards, Portal, Emails, Promote, by selecting the name at the top of the editor. See below for an overview of each section.
The right hand side of the top bar of the Program Editor displays if the program is Active or Inactive and displays a Help and Exit button.
Share
Sharing Experience
Customize your Member Sharing Experience by configuring your Share Widget, Social & Mobile Messages, and Email Message. Click here to learn more about customizing the share widget.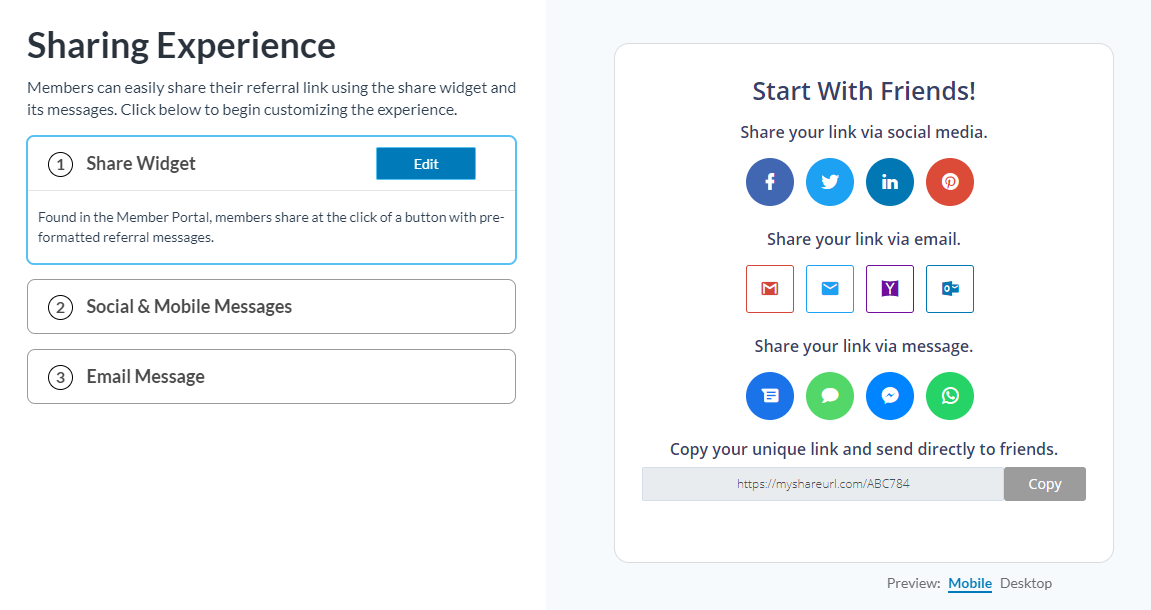 Referral Destination
Determine your desired Referral Destination, which can either be a redirect to an external website or a Referral Rock hosted landing page.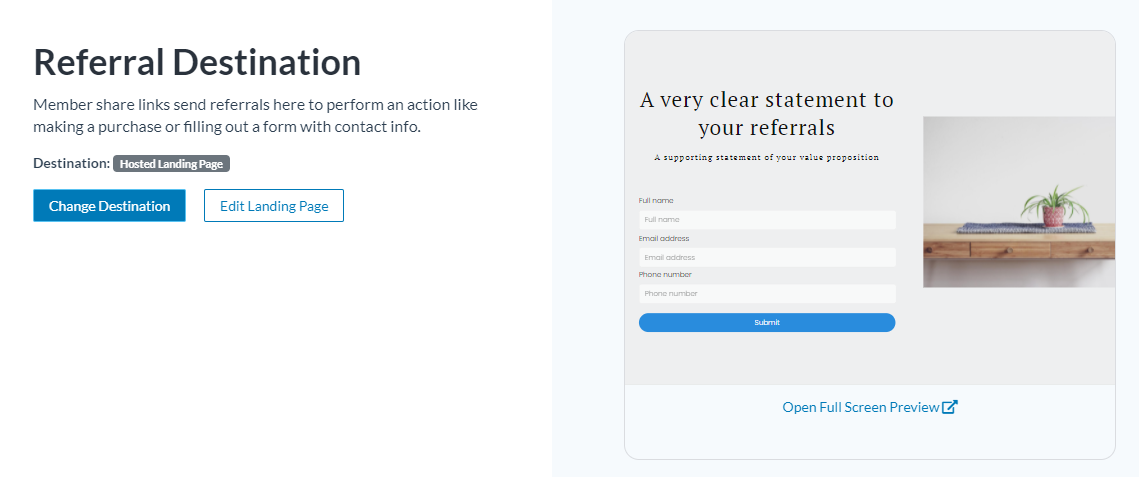 Rewards
Add and configure Member and/or Referral Rewards.
Portal

The Portal configuration bar allows you to view each page of your program's portal and preview the Member's experience on desktop and mobile devices, as well as through the direct website view and a view to show what it would look like embedded on an external website.
Edit and Preview each page of the Member Portal.

Configure your Portal Settings such as Branding related settings and Language strings.

Displays your current preview settings. You may switch between Desktop and Mobile previews as well as Website or Embedded versions.
Emails
Customize and enable/disable automated emails that will be sent out to your Members and Referrals related to this program.
Promote
The Promote section displays many options to promote and integrate your program. Here you can easily Activate / Deactivate your program, get instructions for installing any tracking scripts, embed your program on your own website or app, automatically invite your referrals to join as members, and set up CRM integrations.