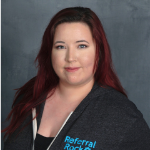 Updated by Tyra Earl
The Referral Page is where you will determine where referrals will be directed once they click on a Member's unique Referral URL. This is your chance to showcase your business and make a first impression that incentives the referral to take your call-to-action. Referral Rock offers two different options for the referral page:
Form or Landing Page (Web Page Builder)- Requiring zero integrations, using Referral Rock's web page builder is a fantastic way to build a beautiful form or landing page to quickly launch your referral program.
Redirect - After a referral clicks on a member's link, they will be redirected to whichever external site that you indicate. Keep in mind that this option will require an integration in order to feed referrals back into Referral Rock. This is a great option if you have an existing landing page to direct referrals to as well as a team that can help with the external integration setup.
If you have been with Referral Rock for a while, you may be using our classic referral page editor for your form or landing page. You can find more information about these in the articles below.
Classic Referral Page Editor:
Referral Form (Classic) - An easy-to-use built-in option that is ideal if you are looking for minimal integrations and a simple contact form to be completed by the referral.
Landing Page (Classic) - A Referral Rock hosted web page containing a Call to Action (CTA) that is used to give the potential referral more information about your organization and any potential incentives that they can get before submitting their information. From this page, the CTA will proceed to an external site of your choosing. We will then integrate with the external site to capture the referral's information using our conversion script or an API call.