Updated by Amber Liggett
In addition to issuing rewards via email and gift cards, Referral Rock supports issuing member rewards via PayPal. PayPal is a great way to distribute cash rewards. This article will cover:
How to add PayPal as a Payout
Adding money to your Rewards Fund
Adding PayPal to your Referral Program
Referral Rock's PayPal rewards are issued through PayPal's mass pay option. PayPal charges you $0.25 for each PayPal reward issued. We use this method as it charges you the lowest fee in comparison to other methods. 
Click here
for more information.
Adding PayPal as a Payout
> Navigation: Main Admin Page > Settings > Payouts or click here.
To add PayPal as a payout:
Select the Add Payout button.
Enter a name/description of the payout.
Select PayPal for your payout.
Select a PayPal Option. You can either automatically issue PayPal rewards using the email address the Member provided OR you can require that the Member provides a PayPal email address before rewards can be issued.
Edit the Reward Email. This is the email that will be sent to Members once the reward has been issued.
Select the Add button.
The PayPal payout option is only available with our Growth and Established Business plans. Visit our
Plans and Pricing
page for more information.
Adding Money to Your Rewards Fund
There are two ways you can add funds to your PayPal rewards escrow account. Your available balance will be updated once the funds have been received.
Option 1: PayPal Transfer: (Recommended) You can fund your account with your PayPal balance by sending the amount to accounts@referralrock.com. 
Although Referral Rock is currency neutral, this PayPal integration
only supports USD
. Also be sure to send using the "Send Money to Friends and Family" to avoid Paypal's transfer fees, that will get taken out of your balance.
If you'd like to use your own PayPal Business account with Referral Rock, or would like to use PayPal in other currencies, click
here
for instructions.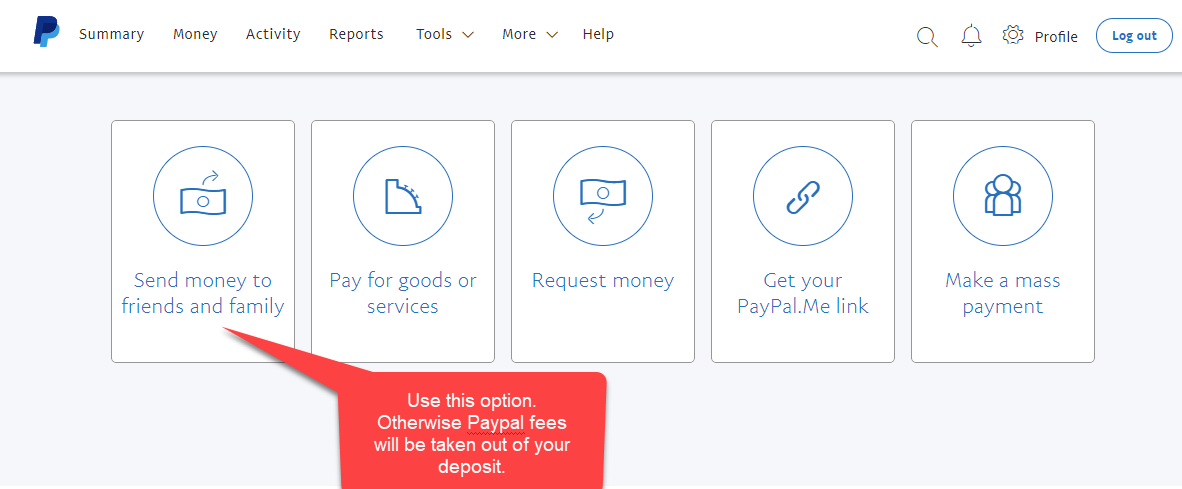 Option 2 : ACH/Wire Transfer: Details for this transaction, including the account and routing number, can be found by selecting Add Funds on the Payout Ledger page.
When using this method, please anticipate 5-7 business days between your initial transfer and when the funds will arrive in your escrow account.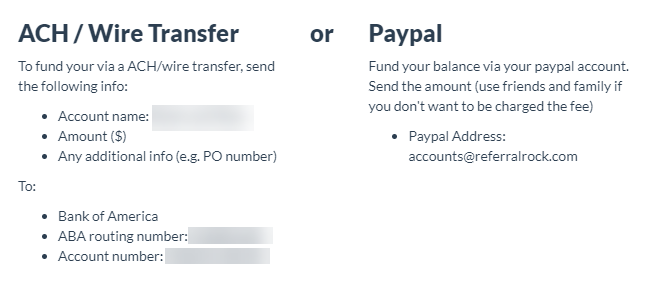 Adding PayPal to Your Program
> Navigation: Main Admin Page > Programs > Select Program > Reward Rules or click here and select the proper program.
1. Navigate to the Reward Rules page of the program editor.
2. Select the Edit Payout icon underneath the Payout column. This will open the Reward Process widget.
3. Under the Default Payout header, select the PayPal payout option you created.
4. Press Save.