Managing Members
How do I see a list of all of my members?
To see a list of all members, select Members > List or click here. This brings up a list of members across all programs.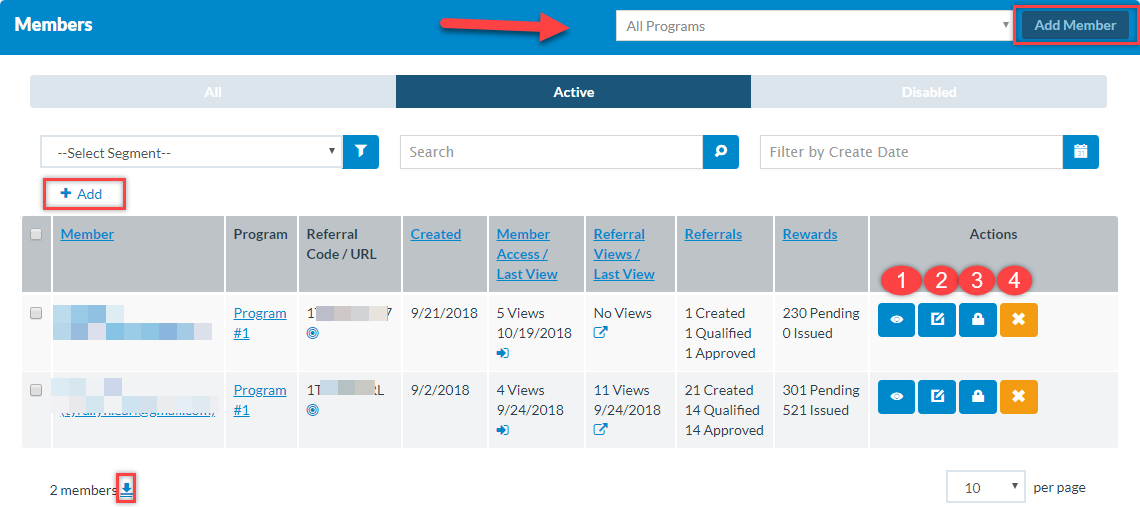 From this view, you have the option to filter by a particular program, manually add a member, select + Add to apply a filter (with the option to save the view as a segment), download a CSV of all members, and much more.
The quick Actions you can take from this screen include:
View Member Details
Edit Member
Disable
Delete
Where do I see a specific member's activity, like their referrals and rewards?
To view a Member's Details, select Members > List > locate the member you'd like to view > Select View Member Details under Actions.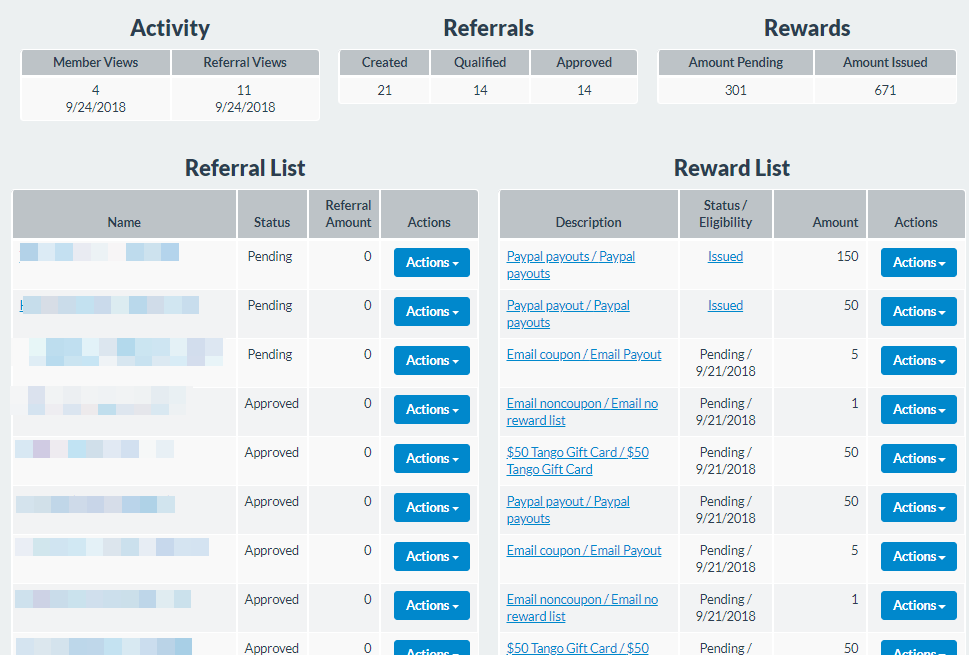 Activity: Amount of Member Views and Referral Views.
Referrals: Amount of Created, Qualified, and Approved Referrals.
Rewards: Accumulated amount of rewards pending and rewards issued.
Referral List: Displays a list of this member's referrals by Name, Status, and Referral Amount.

The Actions drop down menu allows you to Edit, Qualify, Approve, Deny, or Delete the Referral. If the Referral is Qualified, only Edit, Approve, Deny, and Delete will be available. If the Referral is Approved, Edit and Delete are the only available options.

Reward List: Displays a list of this member's qualified rewards by Description, Status/Eligibility, and Amount of the reward.

The Actions drop down menu allows you to Edit, Issue, or Delete Pending rewards. Rewards that have been issued can only be deleted.
Are member referral codes case sensitive?
Member referral codes are not case sensitive.
What are Member Segments?
Often, you may want to view specific groups of Members. A segment is a set of filters that have been pre-saved to allow you to view a specific Member demographic.  Segments are available under Settings > Member Segments and are not program specific.
I have a list of customers that I'd like to automatically enroll as Members. Will an email be sent to them if I import a CSV?
An email will not automatically inform your members that they have been registered if you enroll them by uploading a CSV. If you would like to inform this group of members, we recommend sending them an email announcement through your email marketing platform or through our Email Campaigns feature (available on Growth & Established Business plans).
How do I inform the members I imported of my program through an Email Campaign?
Select Members > Email Campaigns or click here.
Click Add Campaign.
Name your Campaign and select a template.
Enter Email Subject and Customize email to your liking.

Using our merge tags to personalize your email will make the member feel welcome to your program. Also, think about including the Member Footer or a Sharing Block so your Members can get started sharing right away!

Select Next to choose the relevant program and click Add.
Select + Add under Choose a segment or filter. If you choose to use filters:

Filter by Source equals Import.
Add another filter by Created Date and select date or date range that you imported the CSV.

Select Next. You can test the email by entering an email and selecting Send Test.
Select Next. Here you can choose to send the emails now or schedule a time.
Make sure to Save!
---
---