Updated by Amber Liggett
Customer referral programs are built on great reward offerings. Customizing your reward settings lets you update what rewards are created for members and referrals. In this article you will learn to:
Setup member rewards.
Configure reward details, reward tiers, payout rules and reward notifications.
Setup Referral rewards.
Member Rewards
To set up member rewards:
Click here and select the proper program, or go to the Programs tab and select your program. On the Program Details page, click edit Reward Rules at the bottom of the page.
Add a reward by clicking the + Add Member Reward button. You can also edit an existing reward by clicking the Edit symbol.

Reward Details
The Reward Details column contains the basic information about your reward.
What is the Reward?: This is the name of the reward. This name is only visible to the admin and anyone else with access to the program editor.
Is this a Time Based Reward Rule?: The reward rule will only be applied during the set time frame. See below for more information on Time Based Rewards.
What Event Triggers the Reward?: This allows you to specify the event that will trigger member rewards. Do members earn rewards for Added, Qualified, or Approved referrals?
What is the Value of the Reward?: Are members earning a fixed amount or a percentage of the referral's purchase? This is where you will specify the value of the reward. If members earn a percentage of the referral's purchase, you can also specify a maximum amount that can be earned in one reward.  Additionally, you can set a minimum and maximum referral amount before a reward is generated.
Minimum Referral Amount Required?: Do you only want to issue this reward if a referral spends over a certain amount? If so, set that minimum purchase requirement here. Note that you'll need to pass back the referral amount when you create or update referrals in order to use this field.
Maximum Referral Amount Allowed?: Do you only want to issue a reward for a lower tier subscription, or cheaper purchase? Set the maximum referral amount and the reward will only be issued when the referral purchase amount is below this threshold. Note that you will need to pass back the referral amount when you create or update referrals in order to use this field.
Time Based Reward Rules
You may want to offer the member a reward if they qualify for it within a set period of time. Once you select "Yes" for "Is it a time based reward rule?", then options to select the date and time range appear as shown below. Choose the start and end date, and specify the start and end time.
Timezone
is shown below the time and date for time based rewards to allow you to accurately set the start and end time frame. The Timezone shown is reflected by the
timezone set on your
Referral Rock Profile
. To adjust your timezone, navigate to your User Settings under Username > Profile, or click
here
, adjust your timezone, and select Update.

Tier
Tiered Rewards allows the admin to specify the minimum and maximum amount of rewards a member can earn. For example, if you only want to give someone a reward for the first five referrals they make, you will make the tier 1 (min) - 5 (max).
In addition to specifying rewards caps, it can also be used to create multi-tiered rewards where members earn larger rewards based on the number of referrals they generate. For example, if you would like to offer a different reward after the first 5 referrals, you can create a reward rule for tier 1 (min) - 5 (max), and a separate member reward rule for tier 6 (min) - 0 (max, entering 0 indicates no limit).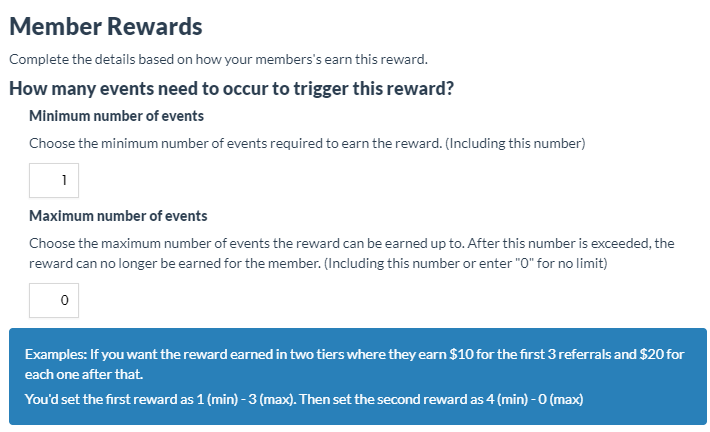 Payout Rules
Instantly Issue Rewards?: If enabled, rewards will automatically be issued once the event has triggered. If not enabled, you can choose to issue rewards manually or by a schedule.
Payout Eligibility Days: If 'no' is selected for Instantly Approve Rewards, this option becomes available. By default this feature is set to 0 but if a number is entered, rewards will not be issued to the member until that number of days has passed. Rewards cannot be manually issued until the eligibility date or the Admin overrides the date.
Default Payout: This is the method used to issue this reward once it is earned by the member. Once you have [created your payout], it will be listed in the Default Payout dropdown. Select the payout and press save.
Notify Member
The last area to edit is the Notify Member section. Once you have clicked the Edit icon, the popup will appear where you can choose to Notify the member when a reward is created. By default, this option is set to 'no'. If this option is enabled, you will be able to create an email template that is sent to members when their reward is available.
Action
In the Action column you can:
Clone a reward rule
Disable/enable a reward rule
Delete a reward rule
Cloning and Disabling Reward Rules
Cloning a reward rule makes an exact copy of that rule. The reward rule is by default named the same name as the reward rule that was copied, but will include the copy date. These rules can be edited normally. This makes it easy to quickly create multiple rewards.

Disabling a reward rule renders the rule inactive and it moves to the Disabled Rewards drop down list, ensuring that your reward rules list only contains your active rules. You can always enable the reward again by selecting the View Disabled Rewards drop down list to view your disabled reward rules and selecting the green enable button in the Action column.

Adding Multiple Rewards
Multiple rewards for a member can be added to the same program. Each reward can issue a different payout depending on the specific action of the referral. Shown below is an example of a program that issues different payouts based on the referral's status.
Referral Rewards
> Navigation: Main Admin Page > Programs > Select Program > Reward Rules

In addition to member rewards, a reward distributed to the referral can also be triggered once the referral is approved. To add a referral reward, click the Edit Referral Reward link below the referral reward header. By default, referral rewards are disabled and the radio button will be set on 'no'. If enabled, you will be able to specify the reward that will be created once the referral reaches a certain status and whether or not it will be generated as a percentage of the referral amount. Additionally, you can set a minimum referral amount before a reward is generated.
Referral Rewards have all of the same payouts as the member rewards. For more information on Payouts, visit our Payouts Overview article.
FAQ
What is the difference between a payout and the program's reward rules?
A payout is set up at the account level and determines the currency and type of reward. Reward rules are then set up within your Program editor and associated with the payout. Reward rules determine the amount and when the reward is earned (when the referral reaches Pending, Qualified, or Approved status). The image below shows a breakdown of an example reward.