Updated by Amber Liggett
Referral Rock uses Tango to create escrow accounts for Payouts. The great part about Tango is that it allows you to send automatic e-gift cards to Members and Referrals.
Managing Gift Cards
> Navigation: Main Admin Page > Settings > Payouts or click here
Setting up a gift card payout and adding funds is as easy as following the steps below.
Manage Account: If you have gift cards enabled, it will appear directly below Coupon Sets.
Create an Account: This will create an escrow account for payout.
Add Funds to Your Account: In order for rewards to be issued to your Members or Referrals, there must be a balance on in your Tango account. You can do so by either funding your account using a credit card or ACH wire transfer. If you have added funds to your Tango account, your available balance will display on your Account Summary page.
Add New Payout: Specify name, gift card fulfillment type and edit rewards notification email.
Add Gift Card as a Payout: This is done on the Reward Rules page of the program editor.
Tango accounts can be funded in USD, CAD and GBP. Please contact your Customer Success Manager if you would like to fund your account in CAD or GBP prior to adding funds
Adding Funds to Your Account
To distribute rewards using your Tango account, you must have the funds available to do so. There are two ways to add funds to your Tango escrow account: by using a credit card or by making an ACH/Wire transfer.
Adding a Credit Card
To fund your Tango account with a credit card:
Click Manage Credit Cards under Tango Settings. You can add a credit card, add funds to your Tango account from your credit card, and delete saved credit cards on this page. 
Once you have added a credit card, click the Add Funds button, specify the amount you want to add (up to $5,000 USD), enter the security code on the back of your card.
Click Submit.
On your Account Summary page, note the Status of your funding.

Success - The funding transaction has successfully completed and the funds have been added to your account.
Pending - The deposit has been received but has not yet completed processing and may be subject to review by Tango. While an authorization has been requested from the issuing bank, a capture/settlement has not yet occurred, and therefore the credit card has not yet been charged. It may take up to end of the following business day for Pending deposits to complete processing and transition status.
Declined - The funding transaction did not complete successfully and funds were not applied to the account. The credit card was not charged. If you need assistance, please contact funding@tangocard.com and provide them with the information under "Help" on your Account Summary page.
Funds will only be removed from your credit card by following the instructions above. Referral Rock will not bill your card if your Tango fund is low. Funding your account with a credit card is subject to a 3.5% processing fee. The first time a card is used there is a 24 hour holding period before you can use your card to add funds. There is no fee from Tango when funding your account through ACH/Wire Transfer, however individual banks may vary.
Making an ACH/Wire Transfer
You also have the option of funding your account via ACH/wire transfer. The instructions needed to complete the wire transfer is found by selecting ACH/Wire Transfer on the Gift Card Account Summary page.
Add Gift Cards as Payouts
> Navigation: Main Admin Page > Settings > Payouts or click here
Once you have added funds to your account, return to the Payouts page and click Add Payout.
Choose Gift Card Fulfillment as your payout and add a description (or name) that will distinguish this reward fulfillment method from any others you may have already created.
Choose a gift card option and edit the email the Member will receive when rewards are issued. 
Go to your Reward Rules and add your payout method to your Referral Rewards program.
Tango's reward message can be up to 1024 characters long.
Gift Card Options
Referral Rock offers a number of e-gift card options for rewards payouts, including:
Amazon Gift Cards (USD, CAD, UK, DE, FR, IT, JP, ES)
Reward Link (This allows the user to choose from dozens of gift cards, including donations. Reward Link is available in 10+ currencies/options. See the Reward Link Catalog to learn more)
Visa Prepaid (USD, CAD)
Mastercard Prepaid (USD, EUR, GBP, HDK, JPY, AUD
Starbucks Gift Cards
Choosing the Reward Link option lets the member choose their own gift card or donation. Reward Link offers a wide variety of store gift cards that can be redeemed by members. For a full list of supported gift cards, visit Tango's Reward Link Catalog.
Gift cards are fulfilled via email and will include all instructions needed for the recipient to activate the card and redeem their rewards.
Per card regulations, Visa and Mastercard gift cards must be redeemed by the recipient within four (4) months of issuing and used within seven (7) months of redemption
Gift cards are issued and supported by Tango. You can find their support page here.
The gift card options shown are the most common gift cards users ask for. Is there a gift card that you like to use that isn't on this list? Let us know!
Refunds from Escrow Account
If you decide to cancel your Referral Rock subscription and there are still funds in your Escrow Account, contact your customer success manager or the Referral Rock support team to request a refund. We'll need the following information: 
Primary Contact's Name, Email and Phone Number
Physical Business Address
Preferred Refund Method (Wire Transfer, Check or Credit Card (only if there was an original charge associated with your account)
There are no additional fees for returning funds and refunds take up to 2-3 weeks. 
If a gift card has already been processed then it is considered a final sale and can't be canceled or refunded.
FAQ
Can I fund my Tango account in a currency other than USD?
Yes. While USD is the default currency for Tango accounts, you may also fund your account in Canadian Dollars (CAD) or Great British Pounds (GBP). Please contact your Customer Success Manager for additional instructions if you are interested in funding in a currency other than USD.
The request must be made prior to funding your Tango account.
How do Donation cards work?
If a charitable donation gift card is selected as the reward, Tango Card will send the funds to the charity on the reward recipient's behalf. No action is necessary from the reward recipient. The reward recipient should save their confirmation email as proof of donation during tax time. An example of the confirmation email that is sent to the recipient is below.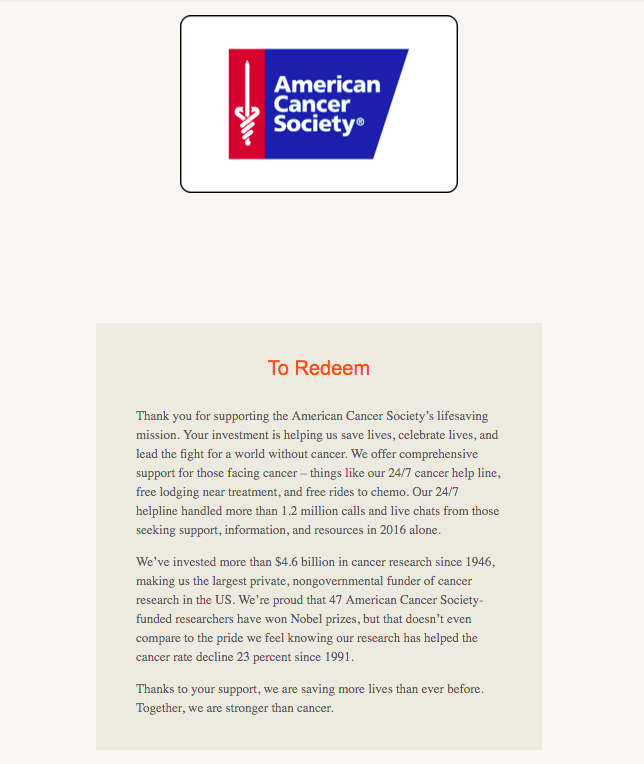 How does someone redeem their Prepaid Visa / Mastercard card?
When the reward is issued, the recipient will receive an email to redeem their Prepaid Visa or Mastercard card. The following steps were taken from Tango's help article. Please visit their article if you would like to view their video outlining the process.
Per card regulations, Visa and Mastercard gift cards must be redeemed by the recipient within four (4) months of issuing and used within seven (7) months of redemption
Click the Redemption Link located in your Prepaid Visa Reward email.
Choose whether you would like to redeem for a Virtual Card or a Physical Card (if option is available)
On the following page, you will be asked to enter: First Name, Last Name and Address. This information will be associated with your account for online purchases as well as security. Should you encounter an issue with the redemption link, you can also redeem the "Digital Token" directly at www.prepaiddigitalsolutions.com
When choosing the Physical Card, there is a shipping and handling fee of USD $3.00 that applies
Click Submit to complete your redemption.
If a Virtual Visa Card was selected, the card details will be ready for immediate use online or over the phone anywhere Visa Debit is accepted.
If a Physical Visa Card was selected, you should receive your card within 7-10 business days if shipping to the United States and 10-14 business days when shipping to Canada. Please refer to the confirmation page during redemption for cards shipped outside of the United States and Canada as those shipping times will vary.