Emails & Notifications
Manage how you communicate with your Members and Referrals and any admin program notifications you and your team would like to receive from the Emails & Notification page. From this page, you can enable/disable any emails or notifications as well as edit the content. 
Email Types
Registration Stage
When a client registers as a member to your Customer Referral Program, there are several email notifications you can create.
Member Request - Potential Member: The email a potential Member receives after completing the registration request. This email is used when a potential Member needs to be approved before joining the program. By default, this email is disabled. To add this step into your program, change the Registration Mode to "Request Approval" in your Additional Options. 
Member Registration - Member: The email a new Member receives after registering for your referral program. 
Added Member - Administrator: The email notification an admin receives after a Member is added.
Registration Reminder: Email a member receives XX days after they register to encourage them to share more (Default is 3 days).
Member Password Reset: The email notification a Member receives when they request to reset their password (always on).
Referral Stage
Once a potential client is referred to your business, there are several emails associated with the Referral stage.
Referral Form Confirmation - Referral: Email a Referral receives after they complete a Referral page form.
Added Referral - Administrator: Email notification to admin when a Referral is added.
Added Referral - Member: Email a Member receives after a Referral is added.
Qualified Referral - Member: Email a Member receives after a Referral is qualified.
Approved Referral - Member: Email a Member receives after a Referral is approved.
Referral Invite - Referral: Invite a referral to join the program XX days after they are approved (Default in 3 days).
Monthly Emails
Monthly Summary- Member: Email summarizing a member's program participation. It raises engagement by encouraging the Member to continue sharing, view their statistics, and easily access their Member page.
This email is sent on the first Monday of every month if the Member satisfies the following:
Member has been registered for 15 days or more.
Member has not been emailed from our system this month.
Is an Active Member in an Active Program.
Has not unsubscribed from the Monthly Emails.

Rewards and Payout Emails
Reward Rules Emails and Payout Emails are not managed in the Email & Notifications page, but you can access these areas by clicking on the Reward Rules page inside of the Program Editor, or by going to the Payouts page.

Editing an Email
> Navigation: Main Admin Page > Programs > Select Program > Edit Emails & Notification or click here
To edit the content of any of the emails, follow the steps below
Select "Yes" to enable the email (to disable the email, select "No").
Select "Edit" next to the desired email.
Edit the email subject and message of the email. 
Hit Save.
For email notifications sent to Administrators (Added Member and Added Referral), you can determine where the notification gets sent by entering the email address in the email edit window. 
Editing the "From" field of your emails can be done in Email Settings in the Email Menu.
Sharing Blocks
Inside of the Email Editor, you will see the option to add pre-built sharing blocks into your emails. These sharing blocks allow your Members to share via social media, text and email directly from the emails they receive.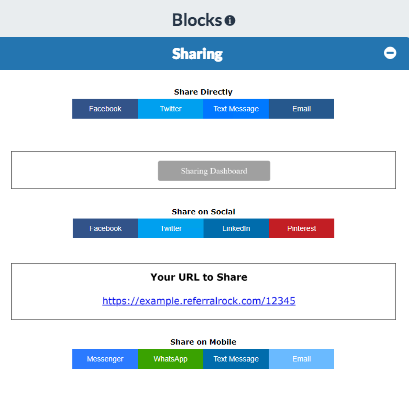 ---
---