Using 123Contact Form to capture referral information is ideal for customers looking to accept payments through their form. We'll go step-by-step through the setup needed to redirect referrals to your form and to track referral form completions.
Setting up the Referral Redirect Page
Step 1: Obtain your form link. The steps are outlined below, or you can follow more detailed instructions here.
Log in to your 123Contact Form account and choose the form you want to send referrals to.
Click on the Publish tab.
Select Form Link and copy this link to use in the next step in Referral Rock.
Step 2: Now that you have the form link that you want to send referrals to, it's time to set this as the referral page in Referral Rock.
Navigate to Program Editor > Share or click here
Under Referral Destination, select Change Destination
Make sure the Webpage Redirect option is selected and enter the URL to the page where your 123Contact Form is hosted.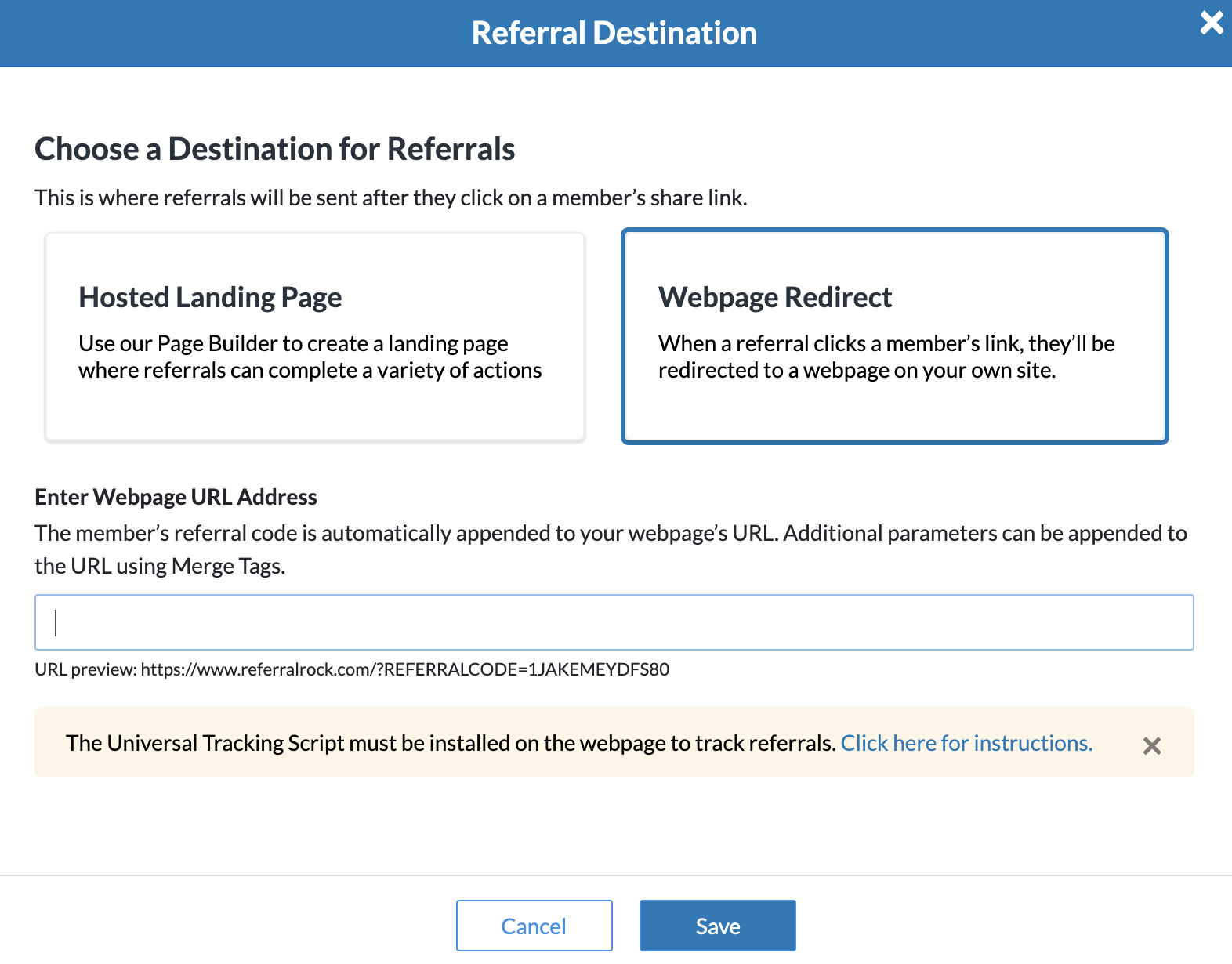 Referral Conversion Tracking in 123Contact Form
The next step in setting up Referral Rock to work with 123Contact Form is tracking conversions on your form. This will tell us which referral filled out the form, which member sent them, and any information we choose to send back from the form submission to Referral Rock.
You are only able to pass data to other sources like Referral Rock with the Pro version of 123Contact Form.
Login to your 123Contact Form account and select your referral form.
Click Settings.
Select Thank You Page from the menu on the left of the screen.
Select the Show HTML Block radio button.
Select a parameter and then click the Add button. This will put the parameter reference code into the HTML box. Copy and paste each parameter reference code it into the 123Contact Event Script below after the name of the parameter.

In the text box, click the Source Code Button (it looks like <>).
Add your 123Contact Form Event Script (example below) with the parameter references to the editor and then click Ok.
Click Save at the top right of the form.
123Contact Form Example Event Script
The following script is an example only. You must replace "example" with your account's name which can be found
here
before the closing </script> tag.
<script type="text/javascript">
  window.rrSpace = (
    rrSettingsConversion = {
      debug: "false",
      parameters: {
        firstname: "",
        email: "",
        externalidentifier: "",
        amount: ""
      }
    }
  );
  (function (f, r, n, d, b, y) { b = f.createElement(r), y = f.getElementsByTagName(r)[0]; b.async = 1; b.src = n; b.id = 'RR_DIVID'; y.parentNode.insertBefore(b, y); })(document, 'script', '//example.referralrock.com/webpixel/beta/universalv03.js');
</script>
Once you add your event script, submit a form and ensure the data is coming through correctly in your 
Referral Rock Event Log
.