Integrating your Referral Rock program with Shopify is simple. We'll go step-by-step through the setup needed to track referral purchases.
Setting up the Referral Redirect Page
Navigate to Program Editor > Share or click here
Under Referral Destination, select Change Destination
Make sure the Webpage Redirect option is selected and enter the URL to your Shopify page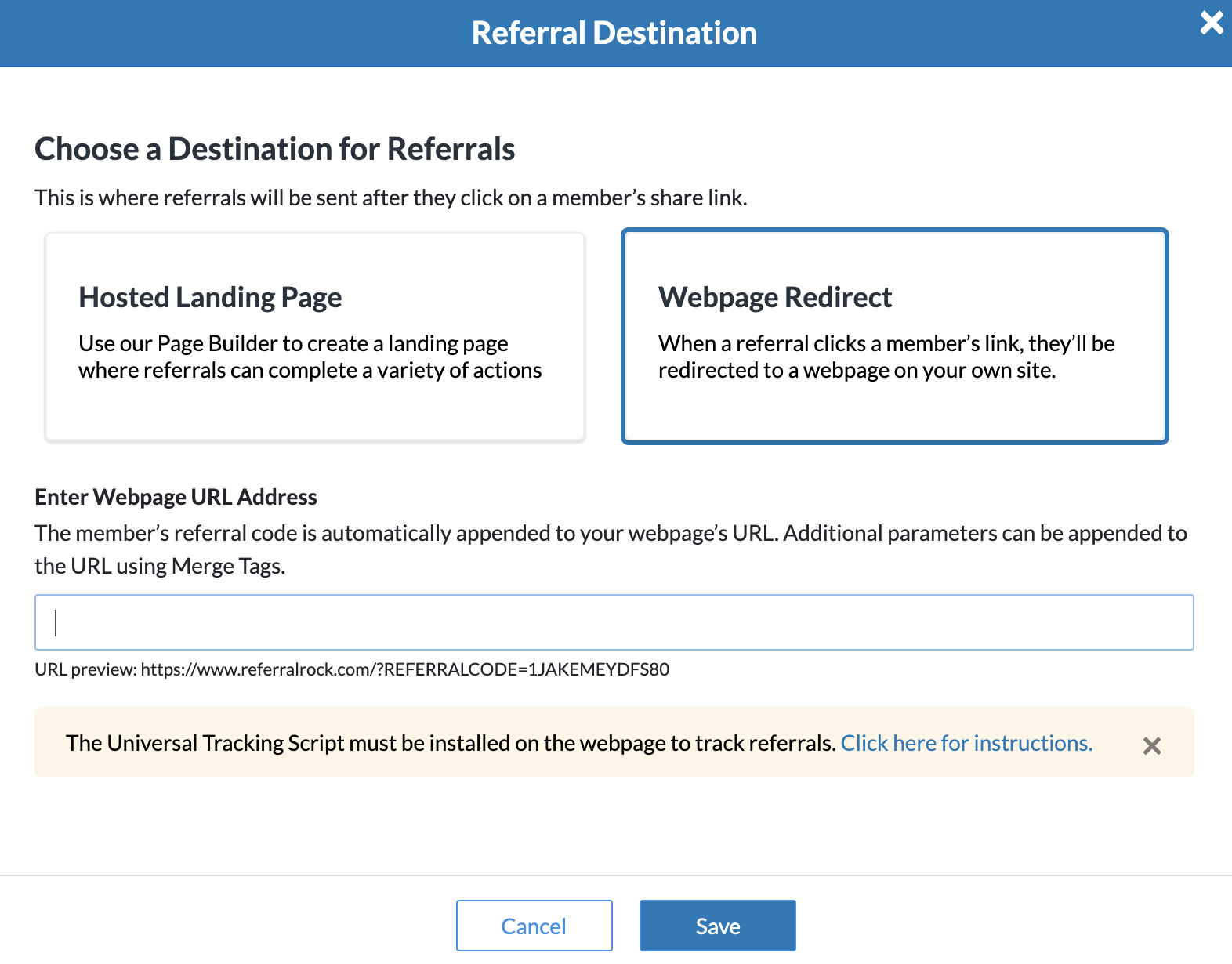 Referral Conversion Tracking in Shopify
The next step in setting up Referral Rock to work with Shopify is tracking conversions on your store. This will tell us which referral purchased from your store, the dollar value of their purchase, and who the member was that referred them so that you can reward that member. 
Navigate to your Shopify Admin Dashboard.
Select Settings from the menu on the left side of the screen.
Select Checkout, scroll down and select Order Processing, and then click Additional Scripts at the bottom. 
Enter your Shopify Event Script (example below) in the Additional Scripts box.
Hit Save.
Shopify Example Event Script
The following script is an example only. You must replace "example" with your account's name which can be found
here
before the closing </script> tag.
<script type="text/javascript">
  window.rrSpace = (
    rrSettingsConversion = {
      debug: "false",
      parameters: {
        firstname: "{{customer.first_name}}",
        lastname: "{{customer.last_name}}",
        externalidentifier: "{{customer.id}}",
        email: "{{customer.email}}",
        amount: "{{checkout.subtotal_price | money_without_currency}}"
      }
    }
  );
  (function (f, r, n, d, b, y) { b = f.createElement(r), y = f.getElementsByTagName(r)[0]; b.async = 1; b.src = n; b.id = 'RR_DIVID'; y.parentNode.insertBefore(b, y); })(document, 'script', '//example.referralrock.com/webpixel/beta/universalv03.js');
</script>
Checkout Shopify's list of 
Checkout Objects
 for more custom info that you can send back with the event script.
Our
Universal Script
should be placed on every landing page. Therefore if you have multiple landing pages you will need to paste this script on each landing page