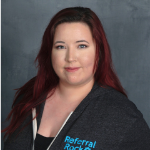 Updated by Tyra Earl
Payouts are the methods in which rewards are distributed to your members and/or referrals. Below is a list of the different Payout options that Referral Rock offers.
In order to add a payout type to your program you must first create a payout method on the Payouts page (Settings > Payouts). Once created, you will link your payout to the reward logic that you setup on the Reward Rules page in the Program Editor.
Types of Payouts
Manual - Manual rewards are rewards issued outside of Referral Rock's system. This is the default reward type for each program
Email (Coupons) - Email Payouts are great for issuing coupon codes to members and referrals. You can choose to use a static coupon code, automatically generated codes, or a coupon list.
Gift Card - Referral Rock uses an external service, Tango, to issue gift card rewards on your behalf. Through Referral Rock, you will setup and fund an escrow account with Tango. Tango allows for a wide range of gift card options (Visa, MasterCard, Amazon, etc) that will be delivered through email. You can also allow your recipient to choose their own retail or charitable donation gift card by using Tango's Reward Link option.
PayPal - PayPal rewards are a great option if you'd like to offer a cash reward to your members or referrals. (PayPal is limited to USD payments only)
Annual Payment Limits
Under the Tools section of the Payouts page we offer the option to limit annual payments at $599. In the US, payouts to individuals of $600 or more requires collecting the recipient's tax information and issuing a 1099-MISC to report payments to the IRS. This feature is available for all Growth and Established Business plans. Payment limits are retroactive for the current calendar year and reset at the beginning of each new calendar year.
If a payment is issued and the recipient has already reached the $599 limit, or if the payment will cause them to go over the limit, you will receive an error message that the payment couldn't be completed and the reward will remain as 'Pending' under your rewards list.
To download a list of all of your annual payments, go to the Reports Page and select the "Annual Payment Limits" report.

If you opt in to limit annual payments, you must edit each payout (on the Payouts Page) that you would like to count towards the annual payment limit and select "Yes" under "Apply Towards Annual Payment Limit?"
Scheduled Payouts
This feature is available on our Growth and Established Business plans.
Each payout may be adjusted to issue the eligible rewards associated with the payout on a set schedule.
If you are using Payout Eligibility Days in your program's reward rules, the reward will not be issued with scheduled payouts unless it has become eligible.
Each time your rewards have been sent out using scheduled payouts, you will receive a notification email outlining how many rewards have successfully been issued, how many failed to issue and why, along with the next scheduled payout date and your current PayPal or Tango Gift Card balance.
Set up your email(s)
here
to receive notification emails!
To set up a scheduled payout, visit an existing payout and select the calendar icon under Actions.

All scheduled payouts are sent at the same time of day. You will see an approximate delivery time which has been adjusted to your account's set time zone from UTC. You can adjust your time zone on your Profile page.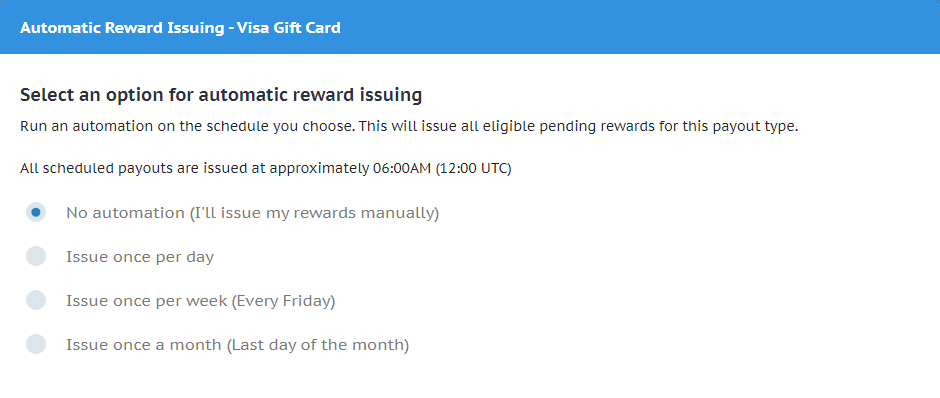 Select your desired schedule and select Save.