Email Management
Managing your emails and settings within Referral Rock is simple with our Email Management. This article will cover:
How to use your Email Log to track emails.
Using Program and Member pages to view more detailed email history.
Adding emails to your block list.
Email Log
The Referral Rock Email Log is a great tool that helps you to ensure the proper emails were sent, and received, by your Members and Referrals across your account. Getting to your email log is easy, simply go to Email > Email History and you arrive in the Email Log.
The Email Log shows you the overall statistics and email messages sent across all active programs. Above the general statistics, you can see a dropdown menu that allows you to filter by email type.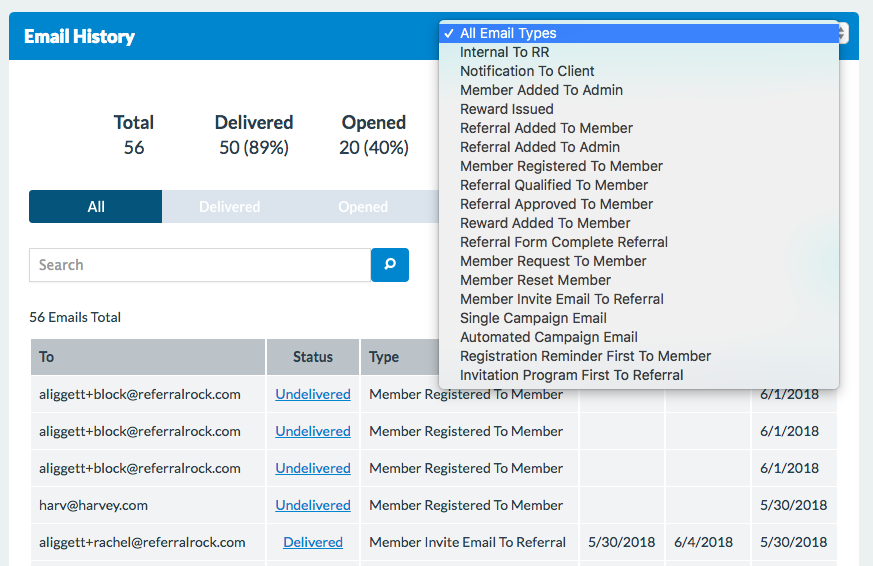 Viewing Emails by Program or Member
The Email Log is an excellent tool for seeing an overview of all emails across your account but there may be times in which you would like to see more detail.
The first option is to view emails by Program. Simply navigate to your Programs tab and select which program you would like to see your email statistics for. Once you get to the Program View page, you will see the Program's Email Statistics on the lower right of your screen. For more details, select View Email History to see a detailed log of emails sent related to your selected Program. The drop down menu along the top of the page allows you to filter emails by type.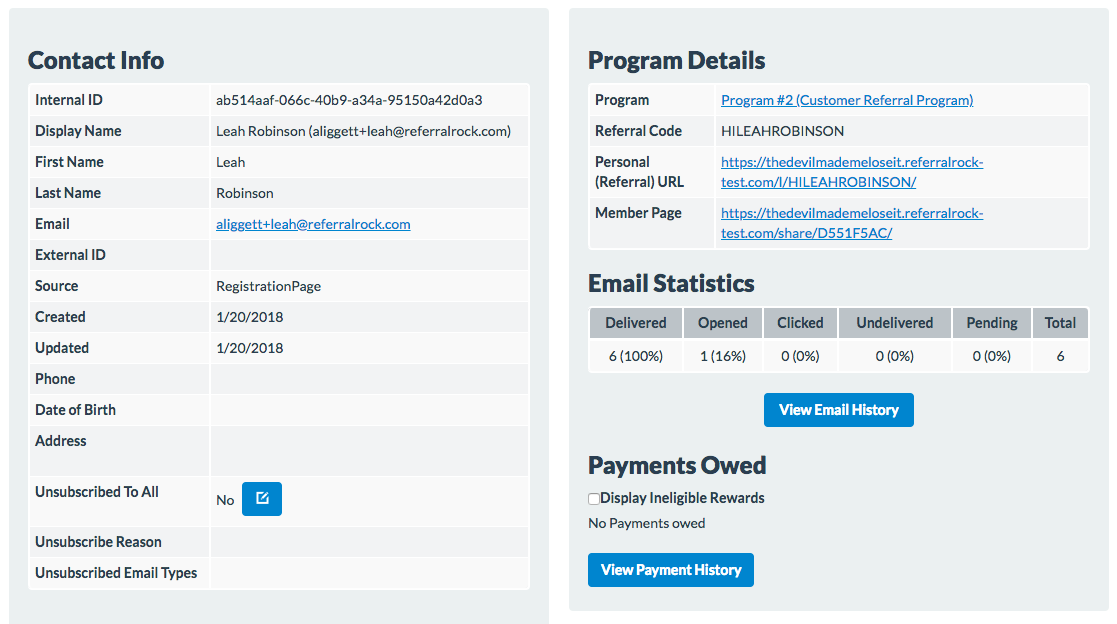 The second option is to view the email log of a single Member. From the navigation bar choose Members > List Members and then choose your Member from the list. When viewing the Member View page, you'll see your Member's email statistics on the lower right hand of the page. Selecting View Email History will allow you to see a more detailed log of your Member's emails and filter by email type.
Block List
In the case of wanting to block a particular user's email address, you can add them to the block list. Go to Email > Block List. Once you have gotten to the Block List area, all you need to do is press Add Email and add the email address you'd like to block.
Email Resend
You can now manually resend any email sent from the Referral Rock system with four main options:
Resend to the same email address, using same delivery method (i.e. Sendgrid) as original email
Resend to alternate email address, using same delivery method as original email 
Resend to same email address, using alternate delivery method as original email
Resend to alternate email address and use alternate delivery method as original email
---
---