PayPal Business (Use your own PayPal Business account)
PayPal Business (Use your own PayPal Business account)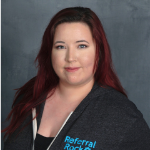 Updated by Tyra Earl
The PayPal reward type allows you to integrate your PayPal Business account with Referral Rock to issue rewards in any currency.
This premium payout is available on our Growth and Established Business plans. If you would like this feature enabled, please contact your Customer Success Manager. This feature is not automatically enabled.
Setting up the App within PayPal
To set up your App
Log in to your PayPal developer account here.
Navigate to My Account to ensure Payouts have been Enabled. Under the "Live" column, if it is already enabled you will see a green check mark. Otherwise, select Enable.

To create your App, navigate to My Apps & Credentials and select Create App under REST API apps.

Name your App, select your Sandbox developer account from the drop down menu, and Create App.
PayPal may take up to 1-3 days to approve your App. You will receive a confirmation email from PayPal once approved. You must wait for your app to be approved before continuing.
Make your App Live
In your PayPal Developer account, navigate to My Apps & Credentials and select your App.
In the top right corner, select Live to switch your App from Sandbox mode to Live.

Scroll down to Live App Settings and check Payouts. Save.

On the top of the page under REST API App Credentials, Copy your Client ID and Client Secret to use in the final steps of setting up the integration within Referral Rock.
Set up PayPal Self Service Payout in Referral Rock
In order to sync your PayPal Business account to Referral Rock, you must first create a
Reward Rule
with PayPal Business as the reward type
Navigate to Settings > Payouts
Select Setup under PayPal
Enter PayPal's App Client ID
Enter PayPal's App Client Secret
Enter a Low Balance notification amount
Select Save.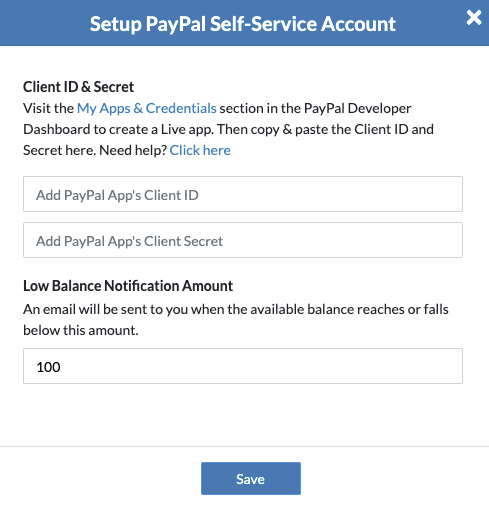 Managing your PayPal Self Service Accounts
In Referral Rock, navigate to Payouts.
Select the gear icon next to PayPal and select Manage Account
To edit the message sent to recipients, select Recipient Email. This text will be included in the email from PayPal with the reward.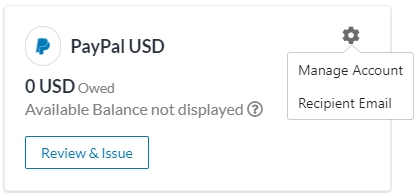 PayPal's Available Balance cannot be displayed because only PayPal partners can view account balance. Please check your PayPal account manually.