Using Gravity Forms to capture referral information is ideal for tracking referrals on your WordPress site. We'll go step-by-step through the setup needed to redirect referrals to your form and to track referral form completions.
Setting up the Referral Redirect Page
Navigate to Program Editor > Share or click here
Under Referral Destination, select Change Destination
Make sure the Webpage Redirect option is selected and enter the URL to the page where your Gravity Form is hosted.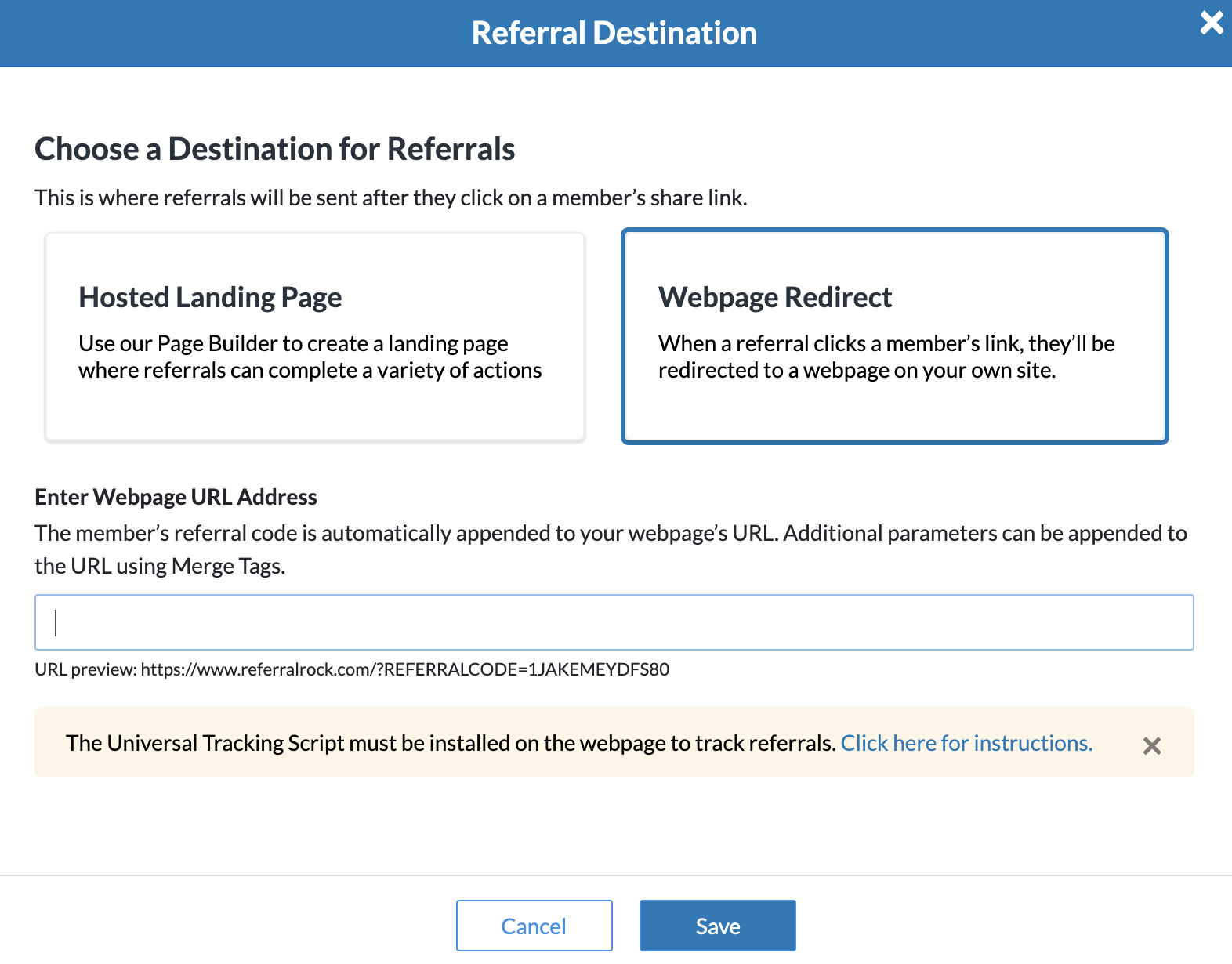 Referral Conversion Tracking in Gravity Forms
The next step in setting up Referral Rock to work with Gravity Forms is tracking conversions on your form. This will tell us which referral filled out the form, which member sent them, and any information we choose to send back from the form submission to Referral Rock.
Access your form. On your WordPress Admin Dashboard, click Forms.
Edit your form.
Hover over Form Settings on the top menu and click on Confirmations.
Edit your Confirmation message.
From within this page, you should now see all available confirmations. To edit an existing confirmation, click on its title.
Choose the Text confirmation type.
There is a Visual and Text tab over the confirmation text area. Select Text.
Paste your Gravity Forms Event Script in the textbox (example located below).
Save your settings.
Gravity Forms Example Event Script
To build your event script to send back form field entries, we will be using Gravity Forms' merge tag system. 
To the right of the text editor is the Merge Tags button. Click on the button.

Select the following merge tags from the dropdown list: First Name, Last Name, and Email. In addition, select any other merge tags that you want to track in Referral Rock (all options are below).
Once selected, each merge tag will be placed in the text editor. Copy each tag and place it in its place in the Referral Rock event script.
Check the Disable Auto-formatting checkbox. This option is below the text editor.
Save your form settings.
The event script below is for demo purposes only! Your script should look similar, although it will have different field names and numbers and requires your own referral rock id in the function. Ensure that your last parameter does not have a comma after it.
<script type="text/javascript">
  window.rrSpace = (
    rrSettingsConversion = {
      debug: "false",
      parameters: {
        externalidentifier: "{Subject:3}",
        fullname: "{Name (First):6.3} {Name (Last):6.6}",
        email: "{Email:7}",
        note: "{Your Message:4}"
      }
    }
  );
  (function (f, r, n, d, b, y) { b = f.createElement(r), y = f.getElementsByTagName(r)[0]; b.async = 1; b.src = n; b.id = 'RR_DIVID'; y.parentNode.insertBefore(b, y); })(document, 'script', '//example.referralrock.com/webpixel/beta/universalv03.js');
</script>

You can add any of the parameters in the conversion script. They are listed below for your convenience:
firstname, lastname, fullname, companyname, email, externalidentifier, amount, referralcode, phone, note, publicnote, preferredcontact, customoption1name, customoption2name, customtext1name, customtext2name, customtext3name, customoption1value, customoption2value, customtext1value, customtext2value, customtext3value
Once you add your event script, submit a form and ensure the data is coming through correctly in your 
Referral Rock Event Log
.