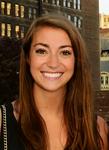 Updated by Meghan McEnry
Our automated program audit checks dozens of settings and best practices to help ensure that your referral program is setup for success, making it easier and faster to launch your referral programs.
Each program has its own individual audit which can be found on the Complete page within the Program Editor.
Program Editor > Complete or click here
You will also see a ticker for each program's audit on your Admin Dashboard and on the Program Overview list page and Program Details page for each program.
As you make edits to your program, and as new updates/features become available in Referral Rock, new audit suggestions and warnings may appear. Make it a point to regularly check your program's audit.
Audit Review
There are two main components of your Program Audit:
Suggestions
Suggestions are designed to increase member sharing and engagement and improve referral conversion rates. They are based on detailed analysis of hundreds of successful referral programs.
Warnings
Warnings cover key areas of configuration and promotion that impact your program's usability and/or management. The warnings list should be thought of as a pre-launch checklist.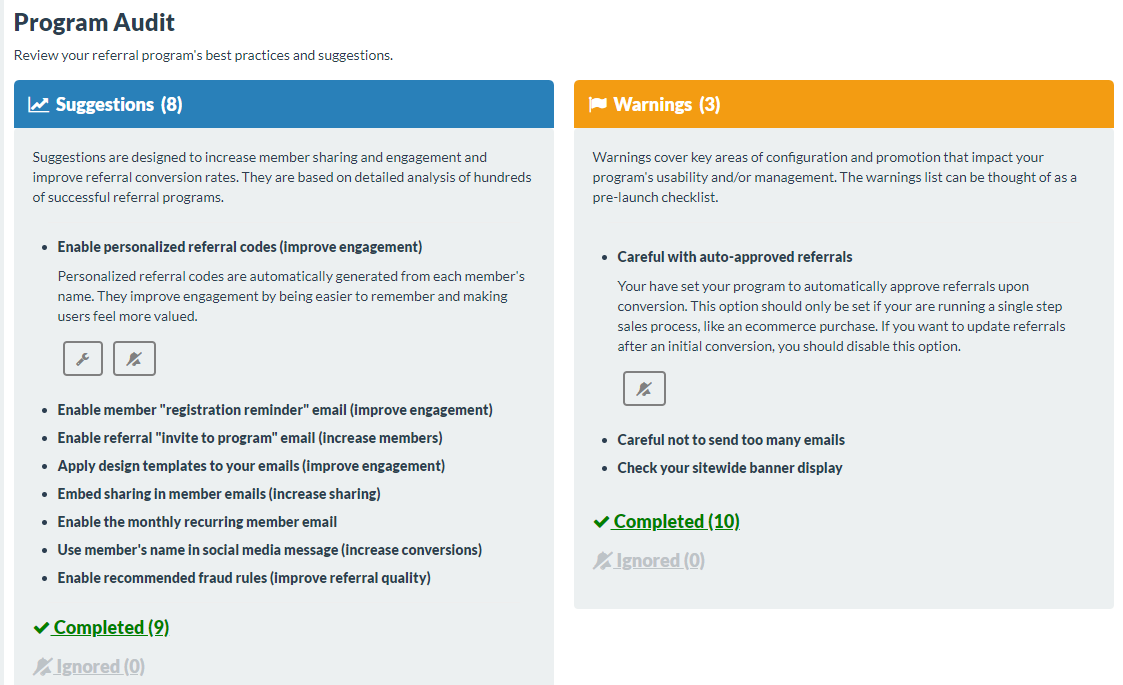 Audit FAQs
I have suggestions or warnings. Now what?
Clicking on each suggestion or warning will reveal a brief description of the audit rule as well as the option to either "fix" or "ignore" the rule.
Fix will take you to the related page within Referral Rock where you can make the appropriate changes to your program
Ignore will clear the audit rule from your audit dashboard (you can always revisit any ignored items later)
You can view all 'Completed' and 'Ignored' audit rules by clicking on the relative drop down link. Once you fix an item, navigate back to the audit and you should see it updated to reflect the fix with the item moved into the completed tab.
Do I need to disable my program in order to edit it?
No, you do not need to disable your program in order to make edits.
When should I ignore a suggestion or warning?
While suggestions are designed as a one-size fits all best practices, there are situations or programs that will divert from these. For instance, some programs are designed to utilize only one specific sharing method. A warning does not necessarily mean something is misconfigured. If you are receiving a warning for something that you have purposefully configured, we suggest ignoring the warning so that it does not show up as an action item. If you are unsure of any suggestion or warning, we recommend contacting your dedicated customer success representative or chatting with support before ignoring an item.
Can I launch with open suggestions or warnings?
Yes. An audit with open suggestions and warnings does not disallow you from launching a program. That said, we always suggest fixing or ignoring all open items, as the audit widget will turn green in your program list and program details page. This allows you to quickly visually check if a new suggestion or warning has been triggered. Remember, green means everything good - orange/blue means there is something that requires your attention.
If you have further questions about what your audit rules mean, please contact Support.