Updated by Amber Liggett
The Additional Options page within your program editor allows you to set up some of the more procedural pieces of your referral program.
Member Settings
These are options that are related to a Member trying to join your program.
Registration Process
Choose how you want your users to register for your program.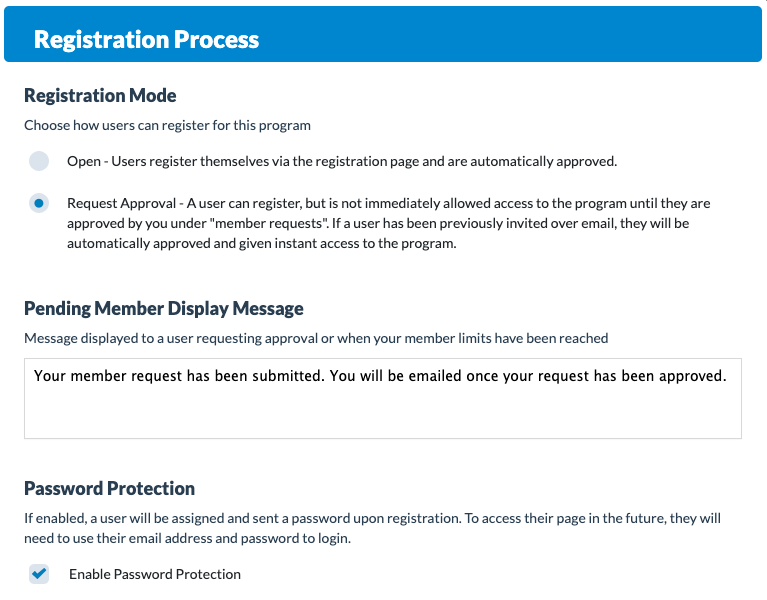 Registration Mode
Open Registration: The user registers themselves to your program by signing up on your Registration Page.
Request Approval: If selected, a member's registration will need to be reviewed and approved manually by an Admin. You may customize the message that pending members will see.
The Pending Member Display Message will also be sent to any members who request to join after your account has hit your
member limit
Referral Code Generation
A referral code is what uniquely identifies a Member.  This is what ties a Referral to a specific Member in order to let you know where that Referral came from.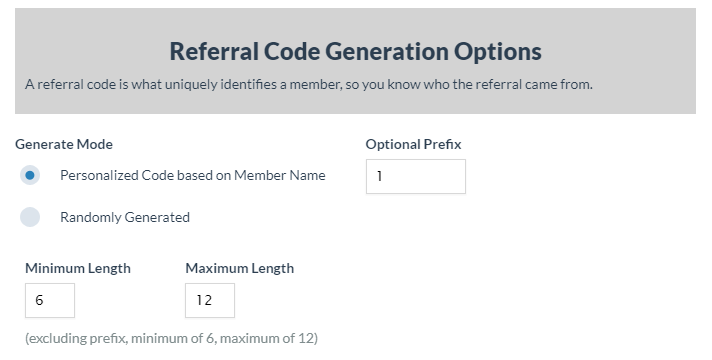 Generate Mode
The generate mode refers to the standard rules that apply to the generation of the referral code.  There are two options when it comes to generating a referral code:
Personalized Code based on Member Name: This means that the referral code will be generated based on the Member's full name.  So if the Member's name is John Smith, the referral code generated would be 'JOHNSMITH' (while still following all other generation rules).
Randomly Generated: When enabled, all referral codes will be a randomly generated set of letters and numbers but will still follow any other generation rules enabled.
Optional Prefix
An optional prefix allows you to have a standard set of up to three characters across all referral codes generated within your program.  Using the example above, if you set a prefix of 123 then John Smith's referral code would be '123JOHNSMITH'.
Minimum and Maximum Length
This allows you to set a minimum and maximum number of characters for your Member's referral codes.  When setting these numbers, this excludes any prefix that you might have set.
Custom Email Notifications
Added Member - Get an email notification every time a new member joins your program
Added Referral- Get an email notification every time a new referral is added to your program
You may toggle these emails On/Off depending on your preference. You will determine where the notification emails get sent by entering the email address(es) in the email edit window. 
Referral Settings
These settings apply to all Referrals coming into your referral program. 
Fraud Settings - Your Fraud settings are automatically enabled to default settings in order to safeguard your referral program from any potential fraud. Configure them here.
Conversion Tracking -  Setup the conversion script on your site so that your referrals will be captured correctly. (necessary if you are not using Referral Rock's referral capture form)
Conversion Settings - Allows you to automatically approve referral when they are added to the system, edit cookie expiration days, and determine which member cookie your program will credit when a referral has clicked on multiple member's links.
If you are using the Referral Form, the Conversion Tracking and Conversion Settings options will not appear because conversion happens through the form.
Invite Approved Referrals - Send an email to your program's referrals inviting them to become members X number of days after they are approved (the default is 3 days).
Send Referrals to HubSpot - (Growth and Established Business customers only) Automatically add your new referrals to HubSpot as a contact
Send Referrals to Salesforce - (Established Business customers only) Automatically add your new referrals to Salesforce as a contact or lead