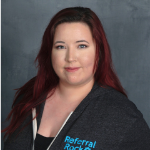 Updated by Tyra Earl
We are delighted to announce Email Editor v2, a new email editor to improve your experience creating beautiful and effective emails. The new editor applies to all Program emails, email payouts, invite campaigns, and member campaigns.
Migrating from Email Editor v1 to v2
Once Email Editor v2 has been applied to your account, if you are happy with your current emails, no action needs to be taken as we have migrated your Email Editor v1 email automatically. If you would like to check out the new editor and make some revisions, your original Email Editor v1 email will be saved as a Version. When you see the following callout, simply select Publish and then continue to the Edit tab to alter your email.

Preview
Please note that different browsers and email clients may render the email differently. We recommend testing your emails to ensure they appear as expected.
In the Preview tab, you see how your current email looks, with placeholder data being used by our merge tags. In preview mode, you can change the template, alter the default button color, and send a test email. To make alterations to the body of the email, you must use the Edit tab.
Edit
On the Edit tab, you can edit the email body, subject line, template, and default button color.
Toolbar

When editing the body of the email, use the toolbar for easy styling.
From left to right, the toolbar offers:
Paragraph (header and paragraph styles)
Font
Text Settings (font size, line spacing, letter spacing)
Bold
Italic
Underline
Align (left, center, right, full)
List (bulleted list, numbered list, indent, outdent)
"More"

Symbols
Color
Undo
Redo
Clean

Personalize (contains the relevant Merge Tags for the viewed email)
Hyperlink
Image (upload or source)
Content Components/Sections
These component sections are new to Email Editor v2. They are pre-styled blocks available for use in your emails. They can be edited and customized once placed in the email body, providing a solid starting point for styling a section of your email.
The sections will show on the right hand side of the Edit screen. The top of the side bar will contain a drop down menu which categorizes the snippets according to what is appropriate for the email you are editing. Choose from hundreds of options such as Share buttons, Titles, Paragraph, Call-to-action buttons and image blocks. Simply drag and drop these components where you desire into the email body!
Some of the below snippets will not be available on all emails. For example, Share Button snippets are not available in Invite Emails because the recipient is not yet a member of your program.
Editing your Content

Once a section is placed, you can click on it to see further options. The blue icon allows you to move the section, the yellow icon allows you to move the section up a block, down, or duplicate. The dark orange X will delete the section altogether.
Selecting '+' will allow you to add a new section below the current section.
Versions

Whenever an email is Published or Saved as a Draft, a new Version is created. You can easily view all versions, preview the version, and publish from the Versions tab.
We have updated the Default Emails for all program emails when using Email Editor v2! Every Email Editor v2 email will contain a default email version.
Your current published version will show a blue check mark under Published. If you would like to Publish a new version, simply select the checkbox next to the desired version. A pop up will ask you if you would like to publish this version. After selecting Yes, you have the option to load the new published version into the Editor for easy revisions.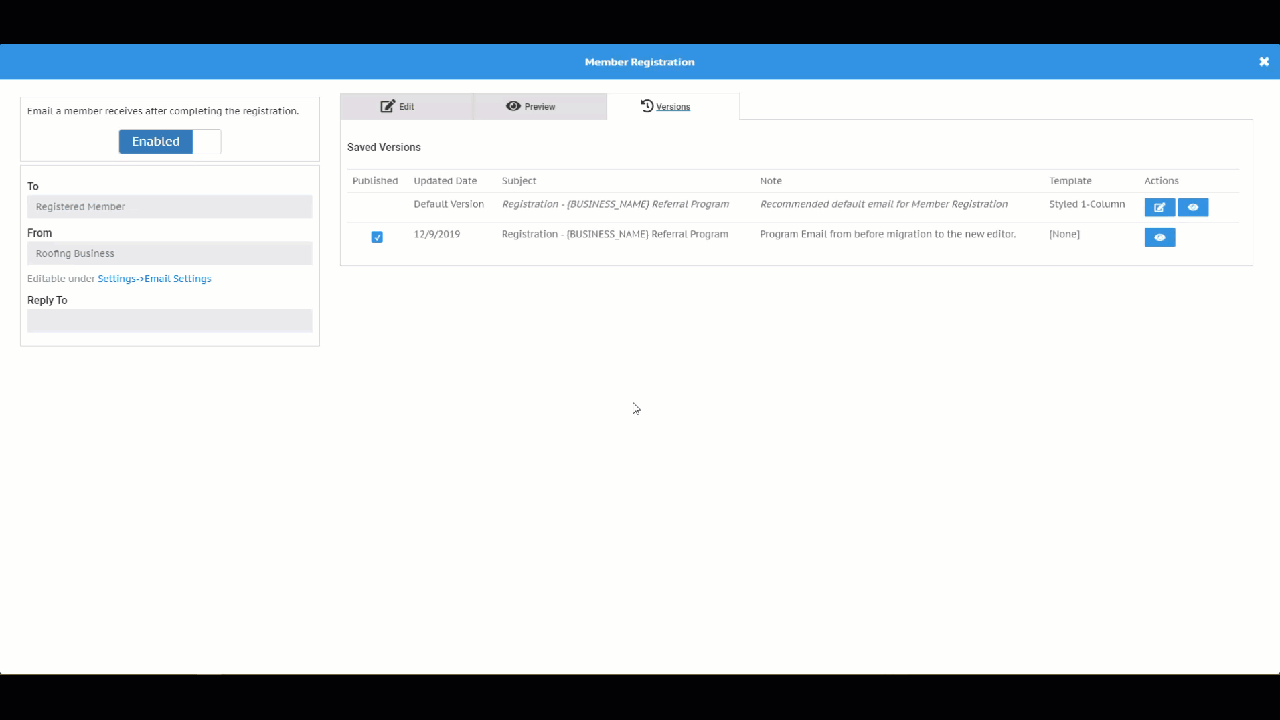 Under the Actions column, you can choose to load a version into the Editor to make revisions by selecting the paper and pen icon, or you can view the version's preview in a new tab.
If you have emails that were created with Email Editor v1, each Program email will contain a "migration email", with a note "Program Email from before migration to the new editor." This is an exact copy of your original email, if you ever choose to revert back.