Integrating your Referral Rock program with Shift4Shop is simple. We'll go step-by-step through the setup needed to provide referrals with coupons for use in your Shift4Shop store and to track referral purchases.
This article references Referral Rock's
Classic Landing page
. If you are using our new Referral Page
Web Page builder
, please reference
this article
for instructions for how to build out a landing page.
Setting Up a Static Shift4Shop Coupon Code for Referrals
Step 1: Create a coupon promotion in Shift4Shop. Follow these instructions to create a coupon code in Shift4Shop. Shift4Shop gives you plenty of options for customizing coupon code behavior in your store, so spend some time setting up the coupon just the way you want! After you save the promotion, take note of the coupon code that you created.
Step 2: Now that you have a coupon code that works in Shift4Shop, it's time to put it into Referral Rock. 
In your program editor, navigate to the Referral Page or click here and choose Landing for Referral Capture. 
In Page > Layout Options, click Yes under Display a code to referral, click Static Code, and then paste your Shift4Shop code into the box below.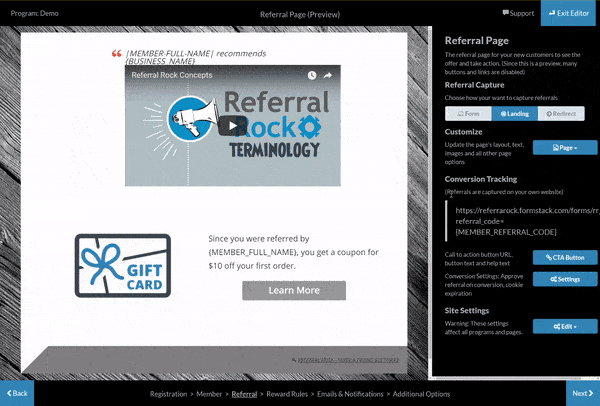 You'll want to spend some time customizing the landing page to make it perfect. The goal of the landing page is to give referrals a quick overview of your business, provide them with the static coupon code, and then pass them on to your store via the CTA button.
Referral Conversion Tracking in Shift4Shop
The next step in setting up Referral Rock to work with Shift4Shop is tracking conversions on your site. This will tell us which referral purchased from your store, the dollar value of their purchase, and who the member was that referred them. 
Log in to your Shift4Shop Store Manager.
On the menu on the left-hand side of the screen, select Content.
Select Titles and Content from the dropdown.
On the Titles and Content Page, scroll down to the Main Pages section of the screen.
Select Checkout #4.
Scroll down to the bottom of the screen and paste your Shift4Shop Event Script (example below) into the Footer textbox.
Hit Save.
Shift4Shop Example Event Script
The following script is an example only. You must replace "example" with your account's name which can be found
here
before the closing </script> tag.
<script type="text/javascript">
  window.rrSpace = (
    rrSettingsConversion = {
      debug: "false",
      parameters: {
           externalidentifier: "[invoice-prefix] [invoice-number]",
           firstname: "[ofirstname]",
           lastname: "[olastname]",
           email: "[oemail]",
           phone: "[ophone]",
           amount: "[total]"
      }
    }
  );
  (function (f, r, n, d, b, y) { b = f.createElement(r), y = f.getElementsByTagName(r)[0]; b.async = 1; b.src = n; b.id = 'RR_DIVID'; y.parentNode.insertBefore(b, y); })(document, 'script', '//example.referralrock.com/webpixel/beta/universalv03.js');
</script>
Automating Referral Approval in Referral Rock
Back in Referral Rock, you'll want to ensure that referrals are automatically approved.
In the Program Editor > Referral (or click here) > Conversion Settings > Settings, 
Click the Yes box under Automatically approve referral? 
When you create member rewards, ensure you are using the Approved Referral Status as the event trigger for the reward.